Iron on names are a great way to personalise your clothing, sports wear, baby bibs etc with digitially cut iron on name transfers.
Made from commercial grade quality heat transfer vinyl, your iron on name will come supplied on a clear plastic backing ready to iron on!
Ordering your iron on name couldn't be easier with our simple form above, just type the name you require (maximum 12 characters) and choose the width you would like your vinyl transfer.
All our iron on name decals can be ordered in over 38 different colours which are dispatched in 24 hours on weekdays. This means from when you order, it won't be long until you're personalising your very own clothing.
Use your iron on names on any supporting material (cotton / polyester) and they will wash up to 40° C without cracking or peeling unlike other cheaper iron on transfers.
Yes! We supply many businesses across the UK with iron on transfers for resale. If you're looking at starting your own business we suggest having a read of the following posts we recently made:
We have a full article dedicated to this question which you can read here. If you don't fancy reading that, here is a summary of the transfer creation process:
Once we recive your order we design it
We then cut the transfer from rolls of vinyl transfer material
We pick away the bits that are not required
We pack your transfers along with instructions
We send your transfers by Royal Mail 1st Class Post
Our transfers are not printed
We can certainly try! If your logo is a single colour please contact us! and we will do our very best to advise on how it can be turned into an iron on logo.
Our minimum order is 1 x Iron on Name, this is especially great if you are using our services for your own clothing business - you can order the iron on vinyl names as you receive your orders.
Once applied our transfers will was up to 40°C without cracking / peeling
We recommend not tumble drying your iron on transfers as this may loosen the glue, instead hang on the washing line, or near a warm radiator (do not place directly on a radiator)
Please turn your garments inside out before ironing and do not use steam
We have been making iron on transfers since 2005, we've made and sent thousands of iron on transfers all over the world to businesses, sports clubs, charities, TV Channels. If you want to see the full range of iron on transfers, please see TeeTransfers.co.uk or to read more about our story, please have a look at our about us page.
We will size all your names proportionally, so a shorter name ordered at a 10cm width, will be taller than a longer name ordered at the same width. As an example, please see the image below: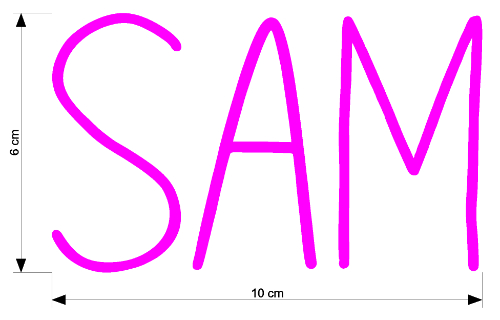 Both Iron on names are the same price, but as one is a shorter name, the height is greater.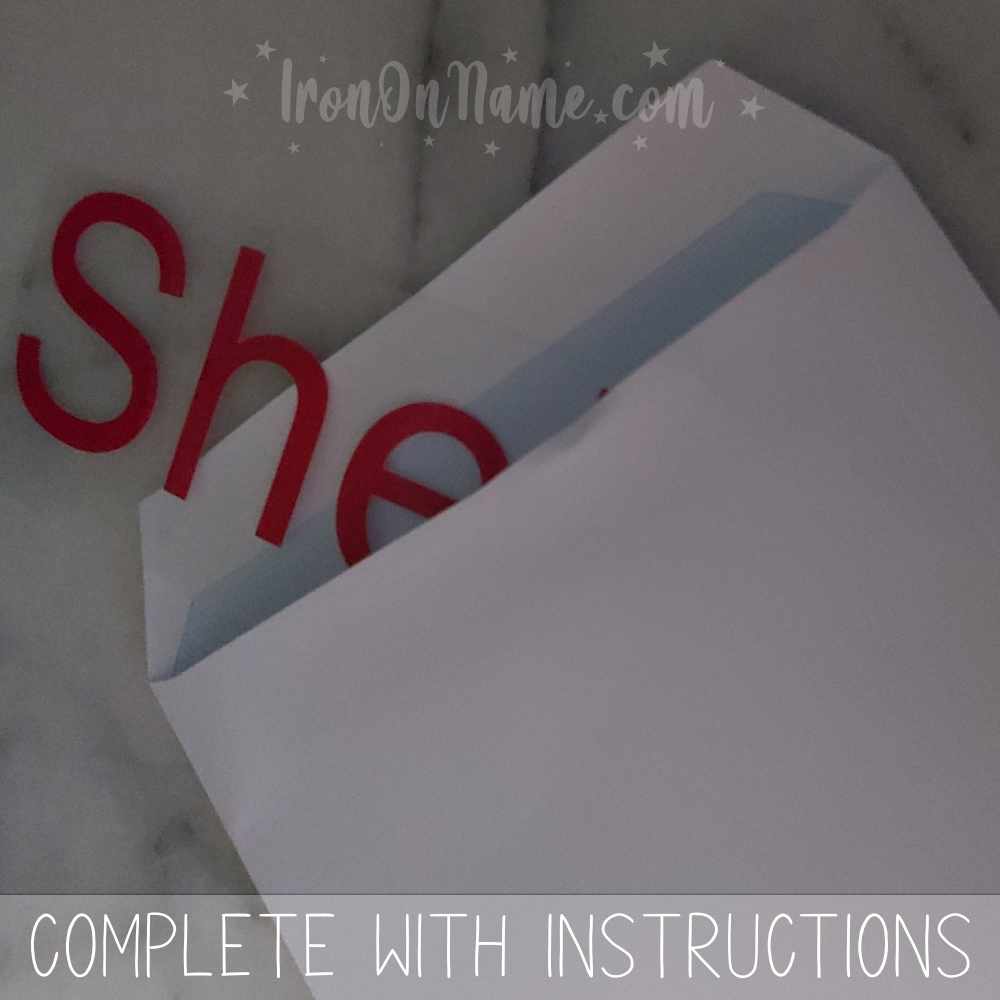 Your iron on transfers will arrive in either an A4 or A5 envelope and are supplied on a clear plastic backing. Once ironed on, the plastic backing is removed leaving only the transfer on your clothing.
Yes! You can read them here, and they will be printed on the reverse of your invoice which will be included with each name transfer.
Our transfers work great with Cotton / Polyester (or a mixture of both). We do have many users who use our iron on transfers on other materials with great success! We're here to help so if you are unsure please drop us an email.
Yes! You can either use a digital heatpress or a standard iron to apply your name transfers. We provide full instructions on both our website and with your transfers.
Yes! Please contact us and we will do our best to either add the font to our list of options, or create a custom online order link for your font choice.
No! Our transfers are supplied on a clear plastic backing allowing you to position before ironing. Once ironed on, the plastic backing is removed leaving only the name transfer in place.